The home team makes contact with the away team 5 clear days before the fixture. During that contact the home teams informs the away team of:
• Venue & directions
• Kick off time
• Kit colours
• Referee
If the home team does not have a ref appointed who is on the league list they MUST inform their opponents. The opponents can then see if they can find a ref to do the fixture.
If the home does have a referee on the League list for the fixture, they need to make sure the referee is appointed on the Full Time system. This can be done by emailing referee@junleague.com
If teams do not have a referee they can go to http://tinyurl.com/p4qlbc6 and complete the online form. Referees will have access to see all the request submitted. So teams putting in requests early will hopefully benefit. The idea is to see if this will help clubs and refs. It allows clubs to make sure information is all present and send in advance notifications and refs can log into the system at times to suit them to find games. Any ref wanting a fixture will contact the clubs – clubs are reminded to check the referees name against the list of registered refs with the League (which is on the League website).
This process replaces emailing referee@junleague.com for requests for a referee and for those requests to be emailed out.
This means requests go to the referees quicker and the refs can manage when they look at the requests. It also helps with late requests, because refs looking for a game can view all the request if they find themselves available to ref at late notice.
If both teams cannot find a referee with a League ID card then they must agree on a stand in official. A stand in official CANNOT referee on a regular basis

League Referee ID Card
All referees in the League will need to produce an ID card, very much like players currently have to, before every League and cup fixture in the Sheffield & District Junior Sunday League. This will give the team managers confidence that the referee is indeed qualified and registered.
Possession of an ID card is not a license to referee. It is to verify identity. Clubs should still check that the referee they are using/their opponents are providing appears on the League list which will be available on the website.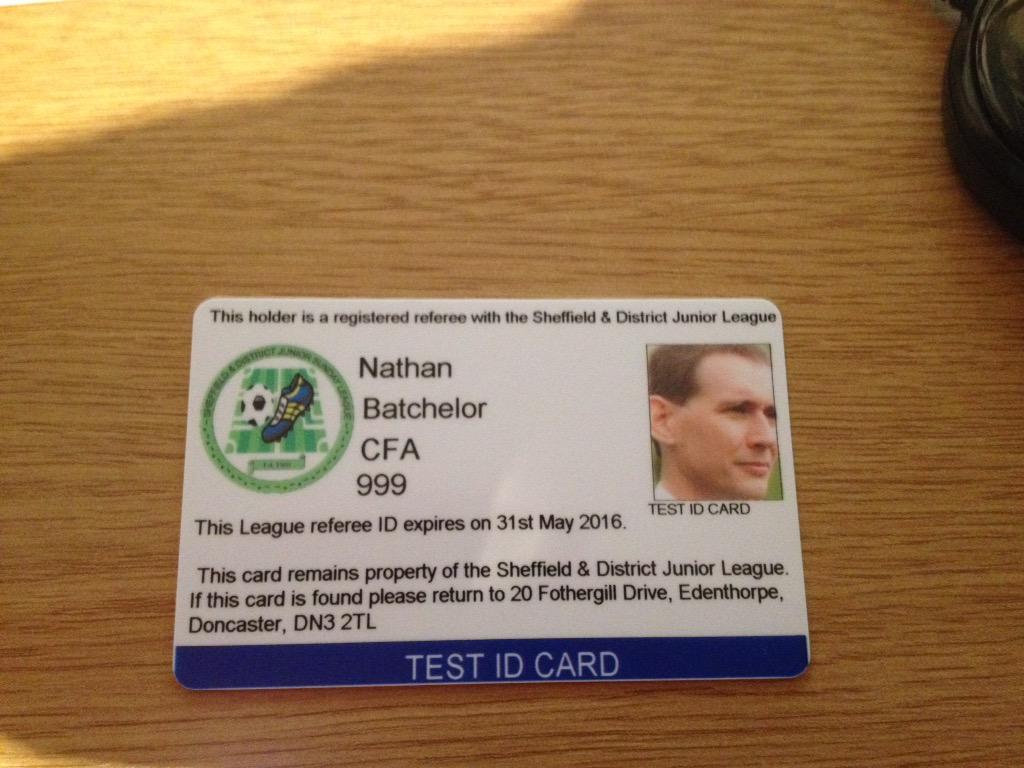 Match sheet
On the Full Time match sheet you should only YES you have seen the referee ID card if you have actually seen it
Referee CRC
As many of you will be aware, recent legislative changes means that any Referee; including Referee tutor/mentor/coach/assessor, over the age of 16 who intends to officiate in youth football (U18) will require an FA 'Accepted' CRC (formerly CRB).
The FA have implemented a three year renewal policy for all criminal record checks, this means that only CRCs/CRBs issued since January 2010 will be accepted for those working in youth football for this season. Those CRCs/CRBS dated before 1st January 2010 will NOT be accepted.
If match officials without an FA CRC state that it is their intention to officiate within youth football during the coming season, they must successfully complete the CRC application process as soon as possible. Until a check is complete these referees are unable to officiate youth football.
Referees must arrange an appointment for a CRC check by contacting their County FA.
Please note from September 2014, Referees will be responsible for the organisation of their CRC verification. It is the joint responsibility of the League, Clubs and Referees to ensure that all referees officiating in their league hold a current, approved CRC. This information has been provided by The FA who state that;
"The FA's Safeguarding policy is underpinned by legislation and it is imperative that actions are taken in line with this guidance to ensure we are compliant with the legal and policy requirements".
This is why the Leagues Referee ID card scheme is so vitally important. Referees are issued with an ID card once the League has made checks and confirmed with the appropriate County FA. Any refs who are suspended or no longer compliant are removed from the League list on the website. The list operates in conjunction with the ID card.