The list below is correct as at 29/12/15
The following are registered as referees in this League and will have a League ID card to show before each fixture.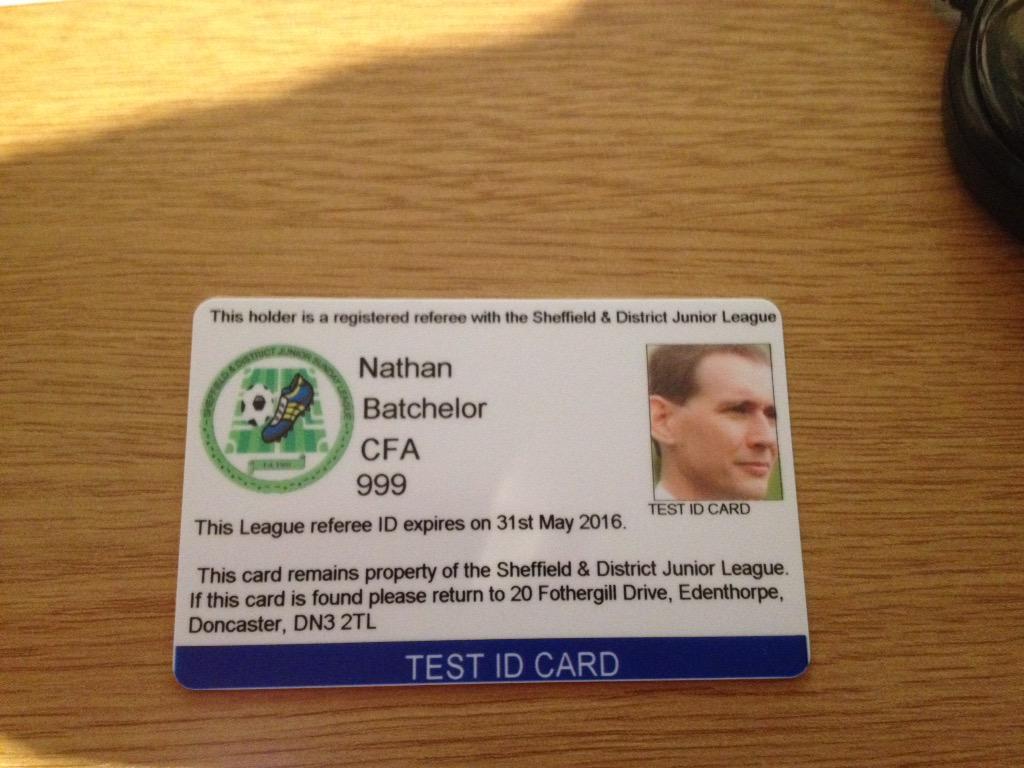 If the referee who intend to use is not on this list, you need to get them to register with the League and the County FA. (If they did not register with the League last season then they need to complete our form which is at the bottom.)
The League will only register referees who are registered with a County FA and have an in date CRC.
Aaron Hallam
Adam Butler
Adam Darlow
Adam Tolley
Adam Lynch
Adam Moore
Adam Boardman
Adam Trow
Adham Alloub
Adrian Lyndon
Albert Rennison
Alex Hattersley
Alexander Bradshaw
Alexander Mellers
Alexander Coe
Alexander Mackenzie
Allan Robinson
Andrew Austin
Andrew Hibbert
Andrew Forrest
Andrew Duffy
Andrew MacKenzie
Andrew Hanson
Andrew Hogg
Andrew Gascoigne
Andrew Burgin
Andrew Woods
Andrew Singleton
Angus Stephens
Annette Wheatley
Anthony Cartwright
Antony Preece
Antonia Butcher
Arnie Grayson
Aron Mallender
Ashley Pearson
Barry Tomlinson
Barry Hinchliffe
Ben Jackson
Ben Jenkins
Ben Nicholson
Ben Knox
Ben Wilding
Ben Baker
Ben Eaton
Ben Rose
Ben Jackson
Ben Ramskill
Ben Bower
Ben Scott
Ben Nuttall
Benedict Westoby
Benjamin Hunt
Billy Smith
Bradley Maw
Bradley Smith
Brandan Wiles
Brandon Ogden
Brian Eaton
Brian Curry
Brian Trinder
Caitlin Barton
Callum Berke
Callum Budimirovic
Callum Wheatley
Calum Goodwin
Cameron Napier
Cameron Widdison
Carl Broadhead
Carl Millington
Charlie Barlow
Charles Wilson
Charlie Clayton
Charlie King
Charlie Trueman-Smith
Charlie Grayson
Charlotte Rogerson
Chloe Flude
Chloe Sanford
Chris Dodd
Chris Dennison
Chris Walton
Christian Parker
Christopher Mapletoft
Christopher Maidment
Christopher Rose
Christopher James
Christopher Beevers
Christopher Stirling
Christopher Samuels
Connor O'Brien
Connor Wilks
Conor Tingle
Craig Lewis
Craig Smith
Craig Wallace
Curtis Oxborough
Curtis Brownrigg
Curtis Botham
Damon Baker
Dan Smith
Danny Gaunt
Dane Ford-Mitchell
Daniel James
Daniel Crossley
Daniel Green
Daniel Teague
Daniel Moxon
Daniel Price
Daniel Fitzgerald
Daniel Fenoughty
Daniel Haggerty
Daniel Bennett
Danish Khan
Danny Guest
Daniel Gaunt
Danny Harper
Darrell Nundy
Darren Morris
Darren Corbett
Darryl Winter
Darryl Booker
Daryl White
Dave Smelt
Dave March
Dave Parden
David Lunn
David Howden
David Sutton
David White
David Hobson
David Butterfield
David Roberts
David Roberts
David O'Hare
Dean Hibbard
Dean Naughton
Dean Young
Denise Marsh
Dennis Millington
Dennis Hogg
Derek McConnell
Derek Statham
Dimitrios Gatsos
Dominic Heeley
Dominic Wynn
Douglas Connor
Duncan Ward
Dymphna Lewis
Edward Newsome
Edward Brown
Eleanor Sharpe
Ella Gill
Ellie Burkin
Elliot Ned
Elliott Young
Emma Phillips
Emily Ward
Errol Barrows
Frank Foster
Frazer Chawner-Wright
Frazer Longford
Frederick Stephenson
Gareth Davies
Gareth Wagstaffe
Gareth Canetti-Sharp
Gareth Scargill
Gareth Brown
Gareth Tye
Gary May
Gary Thomas
Gary Crossley
Gary McFarlane
Gary Hubbard
Gary Jones
Geoffrey Sharpe
George Thompson
George Battersby
George Wheeler
George Blake
George Barber
George Hannah
George Rogan
George Gardner
Georgia Ball
Georgia Clayton
Glen Kilner
Glyn Wheatley
Graham Hughes
Graham Hunt
Graham Saunders
Graham Carrolll
Greg Freeman
Gregory Roberts
Gurjit Sangha
Harrison Flowers
Harry Axe
Harry Glaves
Harry Young
Harry Warwick
Hassan Alloub
Ian Davies
Ian Deakin
Ian Allen
Ian Jenkins
Ian Grant-Sowden
Ian Curtis
Iain Clarke-Coast
Isobel Spray
Jack Larissey
Jack Hibberd
Jack Louis Lee
Jack Smith
Jack Else
Jack Taylor
Jack Shaw
Jackson O'Sullivan
Jacob Guest
Jacob Clark
Jacob Holden
Jacob Kubon
Jake Hemmingway
Jake Rodgers
Jake Davies
Jake Jepson
Jake Thompson
James Cordon
James Naylor
James Liversidge
James Lawson
James Stubbs
Jamie Ward
Jamie Walters
Jamie Hudd
Jason Stancil
Jason Baker
Joe Lancashire
Joe Colman
Joe Ridley
Joseph Edon
Joel Herbert
John Rossiter
John Berry
John Croot
John Payling
John Russell
John Young
John Anthony Rossiter
Jon Collier
Jon Clarke
Jonathan Bell
Jonathan Pinchin
Jordan Robinson
Jordan Bond
Jordan Chawner-Wright
Jordan Concannon
Jordan Bland
Jordan Fearn
Josh Bray
Joshua Allott
Josh Cherry
Joshua Thompson
Joshua Heald
Joshua Speakman
Joshua Minchin
Joshua Drake
Joshua Dykes
Justin Carpenter
Justin Saxton
Karl Lilley
Kevin Wright
Kevin Gray
Kevin Palmer
Kevin Johnson
Kian Bagnall
Kieran Higgins
Kieran Ottewell
Kieran Shaw
Kieran Maxted
Kieran Steen
Kyle Lilley
Kyle Martin
Lakhjeevan Lyie Singh Gill
Laura Parkin
Lauren Santoro
Lee Leedham
Lee Willford
Lee Freeman
Lee Godwin
Leo Mitchell
Leo Reynolds
Leon Asgari
Lewis Sanderson
Lewis Oldham
Lewis Pursglove
Lewis Atkin
Liam Marsh
Liam Bucknall
Liam Willis
Louis Beck
Louis Fairest
Lucas Corbett
Lucy Poskitt
Lukas Ford-Whitham
Luke Stevens
Luke Goodwin
Luke Nicholson
Luke Taylor
Malcolm Jarvis
Malcolm Levitt
Marc Sambrook
Mark Stirling
Mark Jones
Mark Bell
Mark Chapman
Martin Vernon
Martin Colclough
Martyn Jones
Mary Paton
Matt Knowles
Mathew Tomlinson
Matilda Hallas-Potts
Matthew Davies (Worksop)
Matthew Davies (Barnsley)
Matthew Mounsey
Matthew Nundy
Matthew Marshall
Matthew Hardman
Matthew Walsh
Matthew Hamilton
Matthias Johnson
Max Chapman
Mehdi Najefi
Melissa Burgin
Melvin Wallace
Melvyn Kelly
Michael Viney
Michael Evans
Michael Corbally
Michael Cooke
Michael Webb
Michael Layton
Michael Stallan
Michael Foulstone
Michael Oxley
Michael Walsh
Michael Hancock
Michael Robinson
Mick Gilvarry
Mike Stylianou
Millie Kenyon
Milly Tissington
Mitch Dennison
Nathan Swift
Nathan Brown
Nathan Hinchcliffe
Nathan Chawner-Wright
Neal Statham
Neil Davis
Neil Gilmartin
Neil Burton
Neil Hogg
Niall Bacon
Nicholas Ward
Nigel Lee
Norman Jenkins
Oliver Bright
Oliver West
Oliver Lycett
Oliver South
Oliver Hipkiss
Oliver Milnes
Oliver Newton
Olivia Lewis
Owen Tideswell
Paris Shackleton
Patrick Saynor
Patrick Ramskill
Paul Molloy
Paul Green
Paul Bagnall
Paul Wynn
Paul Clarke
Paul Michalowski
Paul Naylor
Paul Furniss
Paul Kilner
Paul Gorner
Paul Elliott
Paul Gratton
Paul Humphries
Paul Vardy
Paul Froggatt
Paul Sear
Paul Barber
Peter Crown
Phil Hancock
Phil Barnard
Philip Walton
Philip Machoka
Philip Gilbert
Philip Whiting
Poppy Wynn
Rebecca Jeffels
Reece Chapman
Reece Lomas
Reuben Knowles
Rhys Lloyd
Richard Kubon
Richard Chamberlain
Richard Moore
Richard Temple
Richard Middleton
Richard Lunn
Richard James Chamberlain
Robert Hancock
Robert Sanderson
Robert Hattersley
Robert King
Robert Holland
Robert Evans
Robert Cooper
Robert Millward
Robert Musselwhite
Robert Simpson
Robert Morley
Robert Sewell
Roger Webb
Ross Barrows
Royston Dimelow
Russ Potts
Russell Kettell
Russell Lagden
Russell Bastock
Ryan Lewis
Ryan Whybrow
Ryan Hadfield
Ryan Pickersgill
Ryan Plant
Ryan North
Sam Wright
Sam Clayton
Sam Gittings
Sam Donaldson
Sam Mullins
Samuel Cooper
Scott Mell
Sean Graham
Sean Hibberd
Sean Coffey
Sean Kinsella
Shaun Birch
Shaun Kilgallen
Sheldon Ashton
Simon Owen
Simon Hall
Simon Marsh
Simon Grayson
Simon Taylor
Simon Rodgers
Sophie Hoyes
Stanley Fox
Stephanie O'Brien
Stephen Ashberry
Stephen Dalby
Stephen Elsey
Stephen Bradbury
Steve Bradford
Steven Beresford
Steven Bates
Steven Maxted
Steven Clayton
Steven Winks
Steven Baggaley
Steven Alsop
Stuart Pinches
Stuart Hague
Thomas Clark
Thomas Robinson
Thomas Ledger
Thomas Brain
Thomas Craven
Thomas Gambles
Thomas Murray
Thomas Spittle
Thomas Farmer
Tom Yarrow
Trafford Baxter
Trevor Fretwell
Vance Warner
Victor Vaines
Vincent Munro
Vincenzo Giove
Waqar Ahmad
Wayne Escreet
Will Travis
Will Sutton
Will Freeman
William Parry